The renewed ALMA leaflet has AR (augmented reality) markers on it. By reading the markers with your portable terminal (e.g. smartphone) with a built-in digital camera, you can get 3D models of ALMA-related items or moving images.
If you do not have a new ALMA leaflet at hand, click the URL below ( https://alma-telescope.jp/assets/uploads/sites/alma.mtk.nao.ac.jp/j/pr/pamphlet/images/alma-leaflet201210.pdf ) and print it out. The four AR markers provide different contents. Follow the instructions below and play with AR contents !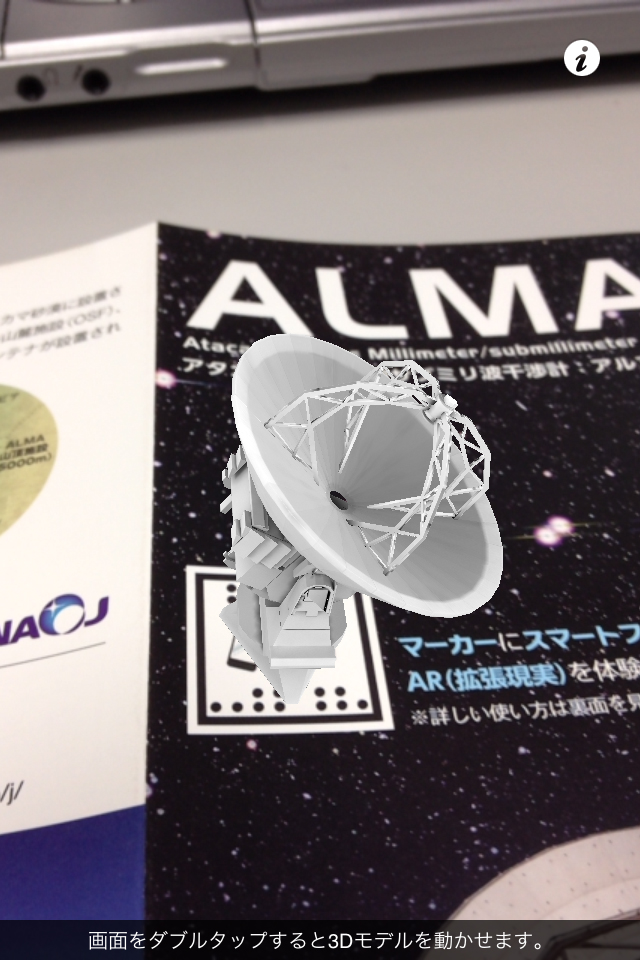 If you have no AR compatible phone, enjoy beautiful images recently captured by ALMA which are also contained in the leaflet (Japanese only).
— How to use AReader —
1. Download AReader (an application) from "App Store" or "Google Play Store" for free.
2. Read an AR marker.
Different contents will be downloaded by capturing each AR marker with your portable terminal with a built-in digital camera. Follow the instructions on the screen.
* Terminals compatible with AReader are: Android phone (Android 2.3 or later versions), iPhone3GS, iPhone4, iPhone4S, iPod touch (fourth generation or later), iPad2, and the latest iPad with a built-in digital camera.
* AReader or some contents do not work well on several types of Android phones.