13. Daily Meeting with JAO & Project Coordination
Published in the June 2011 issue of NAOJ News (monthly newsletter)
œ System Engineering & Integration Manager
System Engineering & Integration Manager. This is my job title at NAOJ ALMA. Since most of the readers may not be familiar with this job, I would like to explain what I am doing in this position.
ALMA is a highly-sophisticated radio telescope composed of various subsystem components based on the latest theories and technologies. ALMA has a wide variety of components, such as antenna, receiver, correlator, computer, control software, and site infrastructures. These components are linked together and built into one integrated system so that they work as a part of a single gigantic telescope that achieves unprecedentedly high resolution and sensitivity. The purpose of gsystem engineeringh is to make technical planning for this kind of complex systems, and gsystem integrationh is to combine each subsystem, make them function properly, and integrate them into one complete system (telescope/observatory).
In Japan, people tend to associate the job title of gthe System Engineer (SE)h with a computer-related job, but in an international environment, SE is an engineer who is engaged in a wider variety of tasks such as system analysis, design, and operation. As a system engineer of NAOJ ALMA, I am involved in a broad range of activities: analyzing performance, quality, and reliability according to the ALMA standards, and managing work processes and maintenance for efficient operations, and so on. Not only me, there are many system engineers in ALMA; each of them is working for the North American ALMA, European ALMA, the Joint ALMA Observatory (JAO), and each subsystem teams (antenna, receiver, computer, etc.). We hold weekly teleconferences with about 20 people from all over the world (including system engineers, product control engineers, and managers from Chile, Japan, Germany, and the East Coast of the United States) to report the progress of each regional partner and discuss ongoing technical issues under the chair of the ALMA Lead System Engineer, Javier Marti. Two Japanese members Koh-Ichiro Morita (ALMA System Verification (SV) Scientist) and Masahiro Sugimoto (JAO System Engineer) are playing active roles in this SE team. We have face-to-face discussions and collaborative activities at least once a month to solve various problems effectively.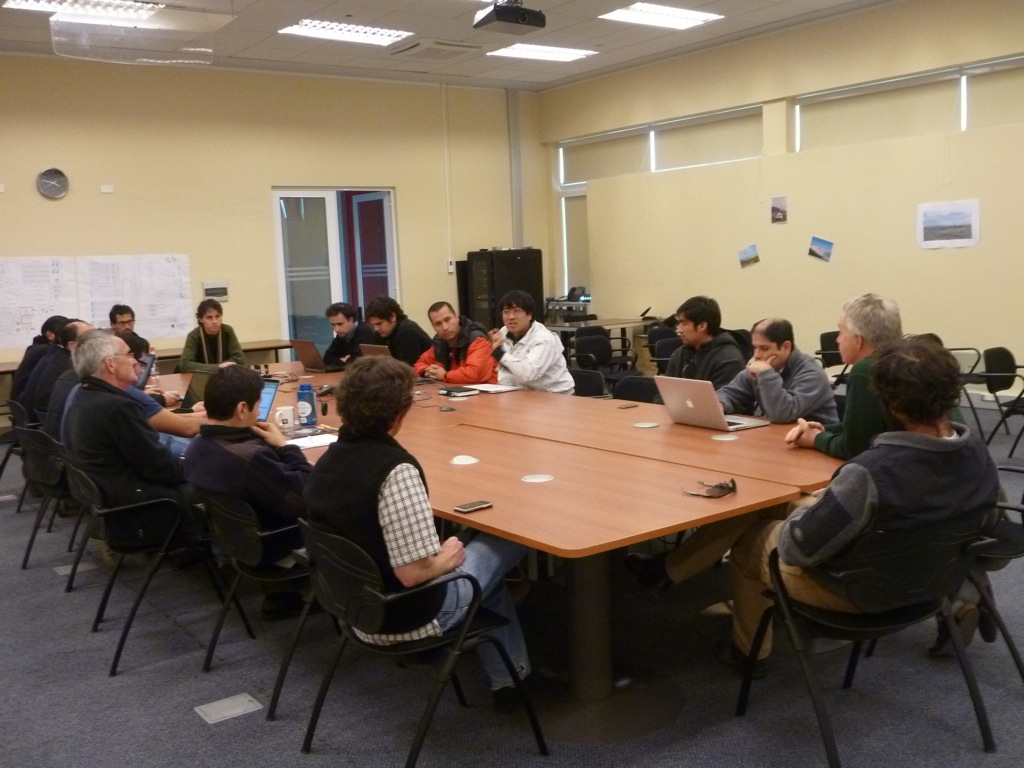 Daily coordination meeting at the OSF with members from CSV (Commissioning & Science Verification), AIV (Assembly, Integration and Verification), ADE (ALMA Department of Engineering), PA (Product Assurance), and IPT (Integrated Product Team). The meeting room where we discuss various ongoing issues and coordinate the antenna time seems like a battle field.
œ International Collaboration Project
The ALMA Operations Support Facility (OSF) and Array Operations Site (AOS) are always bustling with people who are working actively on the antenna construction, subsystem installation, and evaluation. On the site, I play the role of a field supervisor too. My job is overseeing assembly, evaluation tests, and troubleshooting and maintenance of the delivered instruments in coordination with the JAO and IPTs (Integrated Product Teams: to develop subsystems) so that antennas and other components developed by East Asian ALMA can be properly delivered to the JAO.
When the first Japanese antenna was delivered to the JAO *, the IPT was regarded as a gsupplierh who delivers the completed product to the JAO. The IPT members were often called to the site and requested to fix troubles and failures urgently. But, as time goes by, we became aware that we have a common goal to make an ultimate radio telescope and understood the importance of cooperation. Although there are still some occasions where our views conflict and lead to a heated debate, we are now closely united to complete ALMA toward the final stage of construction.
*

Handover of the First Antenna to the Joint ALMA Observatory (Dec 19, 2008)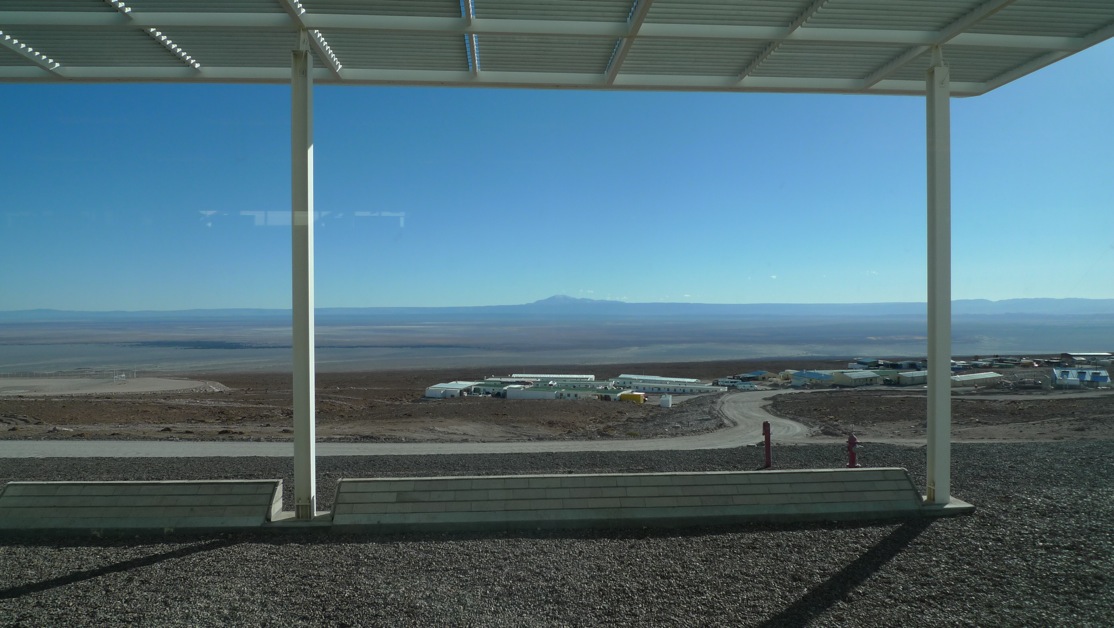 The view from the window of the System Engineering Group office at the OSF. We can command a panoramic view of the Atacama Salt Lake and the Kimal mountain (4276 m asl : shown in the middle of the photo) .
In an international project, it is very important to respect each otherfs culture and custom and build relationships of trust among project members of different nationalities. We Japanese (though not all) tend to work beyond our scope of work and assist coworkers for the benefit of the organization. These acts often lead to the achievement of good results, but it seems to be difficult to understand this for Americans and Europeans who make clear distinction between their own work and others. They try to achieve maximum results within their own scope of work and never step in otherfs turf. This cultural difference was a big surprise for me. On the other hand, it seems that the Japanese enthusiasm and devotion to work for the benefit of all look new to the local ALMA staff. I think our collaboration is creating new values beyond national and cultural boundaries.
It has been 14 years since I first visited Chile in 1997. During this period, I have traveled between Japan and Chile over 100 times. My first visit was to assist the site survey for ALMA. Now standing at the ALMA construction site, I am deeply moved to see ALMA that we dreamt of becoming reality.
We have overcome many difficulties and achieved big milestones, such as antenna transport to the AOS, first spectrum, and first fringes in collaboration with colleagues from around the world. The excitement and the joy that we can feel on site are something very special and invaluable.
*The titles of authors and the names of organizations are those at the time of writing.